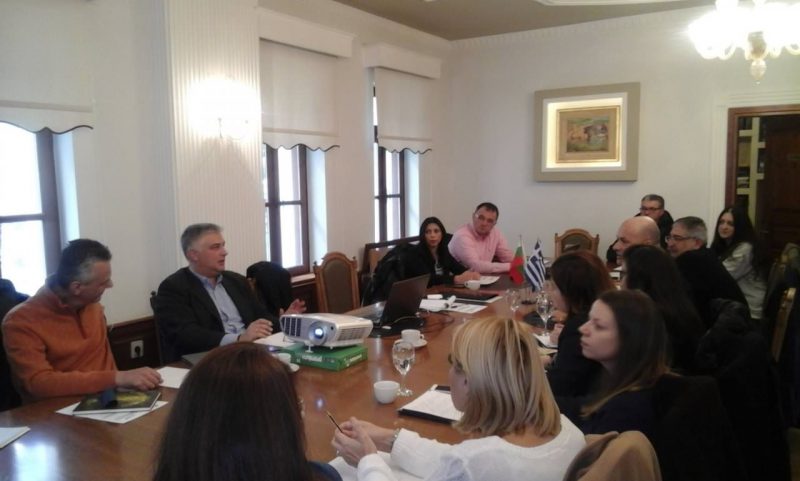 HELLENIC REPUBLIC Serres 6/12/2017
PREFECTURE OF SERRES
MUNICIPALITY OF SERRES
DEPARTMENT OF PROGRAMMING, DEVELOPMENT,
QUALITY AND EFFICIENCY
Information Kokkinidou Athena
Tel .: 2321350134
PRESS RELEASE
Subject: Inaugural GREEN CREW project meeting funded by the European Territorial Cooperation Program GREECE – BULGARIA
On the 4/12/2017 the inaugural GREEN CREW project meeting was funded by the European Territorial Cooperation Program GREECE – BULGARIA. It was attended by the Mayor of Serres, Petros Angelidis, Deputy Mayor of Environment Charpas Pantelis, the Deputy Municipal Councilor Karpouchtis Konstantinos, officials from the Municipality of Serres, representatives of the Municipality of Blagoevgrad, the Municipality of Nestos and the Aristotle University of Thessaloniki, the Department of Chemistry.
Petros Angelidis, the Mayor of Serres, thanked all the participants for their presence and then stated how this project will help the Municipality by increasing its "know-how" of the promotion of alternative waste management with measures and infrastructures for the sorting and composting of green waste.
Along with Aristotle University's aid and the collaboration with the other two partners, the Municipality will promote social entrepreneurship issues by helping citizens to look at these alternative ways of employment. The establishment of social economy enterprises that are active in the exploitation of non-hazardous pre-sorted bio-waste as a raw material belongs to the so-called cyclic economy, and it is an activity that has been increasing in recent years and the Municipality of Serres wants to help its citizens to acquire relevant technical knowledge and take advantage of this opportunity. At the same time, through the model of cyclical economy, what was considered to be waste in the past, is now re-integrated into local production as new products, protecting the environment and reducing management costs.